Waiting on Love
Dating sim/Visual novel/Otome game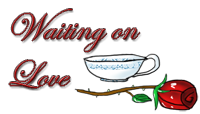 Synopsis:
You play as Josie, a sixteen year old waitress who has recently started working full-time after finding out her friend and crush, David, has a birthday coming up and some concert tickets he's wanting.
You'll be playing as Josie, and given the option to pursue her current crush, or one of the other two guys she works with: Josie's strict, but strangely caring manager, Anthony; and the work newbie, who Josie is stuck training, Robbie, the happy-go-lucky waiter-in-training.
How you play the game will determine which ending you get.
Characters:
Josie is the main character you play as in Waiting on Love.
David is the guy Josie initially is interested in. He's known Josie for a while now.
Anthony is Josie's boss. He seems very serious, but it seems like there's more to him than meets the eye...?
Robbie is the newbie at work, who Josie has been asked to train. He's very friendly, but quite clumsy.
Rebecca/Becca/Becky - ???
A mysterious girl. She has some relationship with David, but Josie isn't entirely sure what it is.
Josie's Mom
Progress:
Character Designs: 6/6
Character Profiles: 4/4
Script:
Started!
Editing: 0
Sprites: 0
Started! <3
Backgrounds: 0
CG: 0
Programming: 0
Sounds/Music: 0
---
Note:
This is my first time making a game, so obviously it's going to take me some time. I thought putting this up here might be helpful, and generate some interest. Knowing there are people who will actually try the game helps keep me motivated.
Also, since this is my first game, I am trying not to let this game get too complicated, so don't expect a masterpiece.
Any help and tips would be greatly appreciated. I plan to use Ren'Py to make this game, and it will be my first time programming, so it'll also be a learning experience for me.
For updates on progress, check out my game blog:
http://www.kinkiskiddles.blogspot.com
If ya wanna see the artwork as it's being produced, check out the DA group:
http://kinki-skiddles-games.deviantart.com/
Misc. Pictures: