Characters:
1. Valencia Athanae Leingold (Immortal)--16 yrs old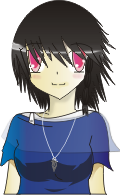 Personality:
Tomboy and cheerful. She is stubborn like her father. Because she never have a relationship with a boy, she seemed to be a little dense. Valen is the type of girl who enjoys life how harsh it is, and never give up even if there's no other way.
Strong relations: - Oswald Leingold (Father)
- Cheryl Leingold (Mother)
- Cain Albaderon (Bodyguard [!])
2. Oswald Leingold (Immortal)--19 (physically),xxxx years old(real):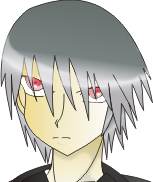 Status:
Oswald is now one of the most influental aristocrat in Fantasia. Living with his daughter and wife, he is now working at the castle and handles secret and top-ranked jobs.
Past:
Once a Demon Lord, but after meeting his wife he gradually changes. He was one of the most important person at the Crimson War, who has slaughtered more than a hundred people alongside Leon. Not because he wanted it, but because Valdrox kidnapped his daughter.
Personality:
Oswald doesn't change at all, still speaks all he wants without thinking of other's feelings. And he still won't call the names of those whom he loves. He calls his wife 'Wife' and his daughter 'Kid'. He's also a bit too overprotective towards his daughter, because he almost lost her once. Towards Cain, he acts more fatherly, sometimes he does care about Cain's conditon but never shows it explicitly. He's the type of man who cares about his family deeply, and is willing to exchange his life for the sake of his family.
3. Cheryl Leingold (Immortal)--19(physically), 43(real):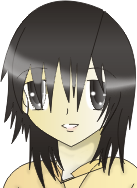 Status:
Oswald's wife and Valen's mother. Also the main heroine for the previous saga.
Past:
Cheryl's real name was Cheryl Nielsen. She was a girl used the blue orb to save Fantasia and her lover. She was admired by Leon, Ian, and Gil. She chose the Demon Lord instead and sealed the realm of Thanos. At the crimson war, she protected her daughter and ran
into the Realm, while praying for her husband's safety.
Personality:
Calm and mature, she always calms her husband down whenever he fights with Valen. She's also cheerful like her daughter, and often tease her like Lady Vestoria did to her. She also loves the idea Valen getting together with Cain. Valen is a typical housewife who always takes care of EVERYTHING around the house, so she's the only nolewoman who has NO SERVANT.
--The Guys--
4. Cain Albaderon--The demon from the realm-- 18 years old--Obtainable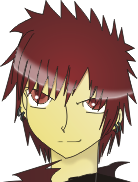 Status:
Oswald's right-hand man, Valen's bodyguard, and known by public as Oswald's "adopted" child
Past:
Cain was chained at Thanos' Realm as one of Oswald's creation (An unnatural demon).
He was considered dangerous and unstable. all he did was hurting himself, having no will to live. Ever since he gained his "pyro" power, he ran away and sealed himself at the depths of the realm unnoticed. It is said that Cheryl released him in oreder to protect her daughter and he met with Valen long ago, but Valen forgets about him. He was a newborn at the prequel, but right now he's a lighteater.
Personality:
Mature and reserved, he does not differ from before. Cain is very loyal towards Oswald and Cheryl. But somehow, his attitude towards Valen is different. He always calls her "Daddy's Girl" and teases her. He also loves to piss people off calmly with an innocent expression. This is what you call a "bad but mature" person. Cain is dependable, but always avoid making bonds with someone.
Secret:
-Valen overhears Oswald telling him that he has "no time left".... What could it be?
-His arm is always hidden... Why?
5. Volg Tribe (Nomad)--Obtainable--17 yrs old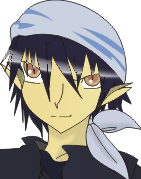 Status:
A second-level rookie at Vanguardion Guild.
Past:
Volg was a son of a big wolf-nomad's clan leader. At the crimson war, his family members died one by one. Now he's all alone. Some dark curtain is covering Volg's past. So little is known about this Nomad. He keeps hiding his true identity.
Personality:
Volg is a "genki" type. He always acts before thinking. That always drags him into trouble. However, Volg is very kind-hearted and always care about other people's condition. Volg also has no sense of direction inside towns, but he's very good in the wilderness. He looks at Cyrus as an "Annoying Junior", but sometimes end up worrying him above anyone else. He's also a bit dense when it comes to romance.
Secret:
- Volg always hides his background. Why?
- Sometimes at night he howls, as if looking for someone. Who could it be?
6. Cyrus Bevallos (Half Elf-nomad)-15 yrs old--Obtainable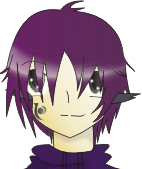 Status:
A first-level rookie at Vanguardion Guild
Past:
Cyrus' family was sold as slaves because they had much debts and couldn't afford to pay it. He managed to run away and believe that if he can get much money, he will be able to buy his family back....
Personality:
He alwas do anything in the name of money. He'll do anything to get it, including crying crocodile tears or even kill people. He decided to enter the guild after seeing the amount of money Volg got when he captured Cyrus. He always think that Volg is a "good-for-nothing-senior" but eventually looks up to Volg as a big brother. Cyrus also loves to flirt with Valen, wanting her money, but maybe that will change....
Secret:
- As a half, Cyrus never shows his power. What could it be?
- Where is his family?
7. Raven Roughknight (Half-elf)--18 yrs old--Obtainable
Status:
Gil's son at Elven Village, he's going to be the village's chief. An official weapon researcher.
Past:
Raven was raised as Gil's heir. He has to learn lot of things, including decorum and war tactics. One day, his childhood friend died because of war. Seeing the scene when his friends' throat was slit, Raven began to think about the real purpose of weapon.
He's currently trying to find other use of weapon.... The weapon that killed so many people. He then invented a rune gun, which can fire rune stones. But he keep it hidden, so no one can use it the wrong way...
Personality:
Raven has a laid-back personality. But when it comes to research and science, he suddenly fires up. Raven doesn't want to be the leader of the village, and keep disobeying his father's orders. Raven also make friends with Cain (at least that's what he thought) who can understand his "logical and hard-to-understand" words. As a half-elf, Raven can use telekinesis like Gil, but instead of being able to read minds, Raven has photographic memory.
Secret:
- Umm, does he have a secret? XD
8. Nazim Xaretros (Navandel)--19 yrs old--Obtainable
Status:
Valdrox's Royal Prince
Past:
Nazim is the first son of the King, and he has one sister, Farah. Something happened in the past, causing him to "fear" women. When his father died after the talk of peace, Nazim rules over the Empire, but he cannot become the king, until he find a bride.. But how can that be?
Personality:
Being mature and dependable, Nazim also has a good leadership ability. Being strong and intelligent, as a prince, he's perfect. That's why he's one of the most wanted bachelor in Valdrox. However, as a boy, Nazim's fear towards girls is makes him difficult to
socialize. He refused to touch girls, and always drags another boy if he wants to talk to Valen. Nazim never shows his real feelings, but when it comes to his kingdom, he will be very emotional.
Secret:
-What happened in Nazim's past?
- Is there any cure for his phobia?
9. Klavios Gavanshe Zanarkand (human)--16 yrs old--Obtainable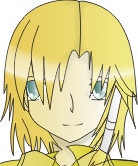 Status:
Seldrus' Royal Prince
Past:
Klavios' mother was killed by a Valdrox soldier in front of him. That's why he hates battle, and also Valdrox. However, he tries so hart not to let past events rule over him when he meet Nazim.
Personality:
Graceful and calm, Klavios is quite a bishounen, he's popular among girls like Nazim, and he's indeed a playboy. His love towards women are quite popular, that also gave him a bad impression. He sometimes enjoys some parts of woman, which made him looked
like a pervert, but he always said that it was all about art. He looked like he doesn't care about his kingdom, but it's wrong, actually he deeply cares about the war, but hates fights.
Secret:
- Umm, does he have a secret? XD